The 2013 Spiel-a-thon was held on November 22, 2013 at BGG Con in Dallas, Texas.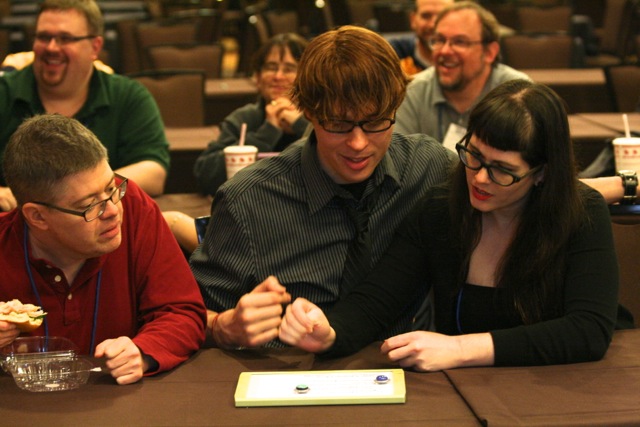 We had 108 participants and raised $2100!
The winning team this year was Flip The Table: Flip Florey, Chris Michaud, and Matt Saunders.
Check out their great podcast Flip The Table! Celebrity guest team member was Scott Alden.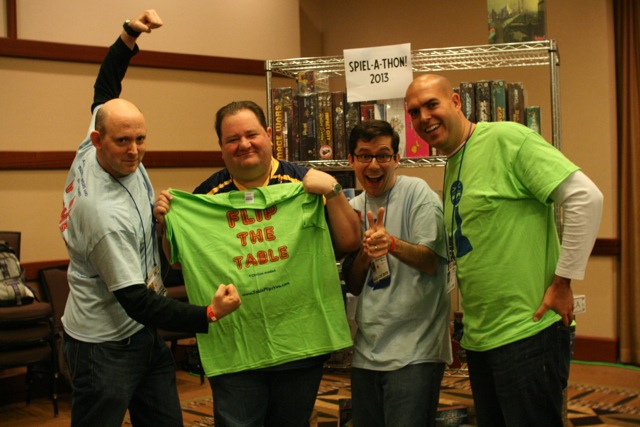 Thanks to our celebrity guests: Rich Sommer (actor), Scott Nicholson (podcaster), and Scott Alden (BGG).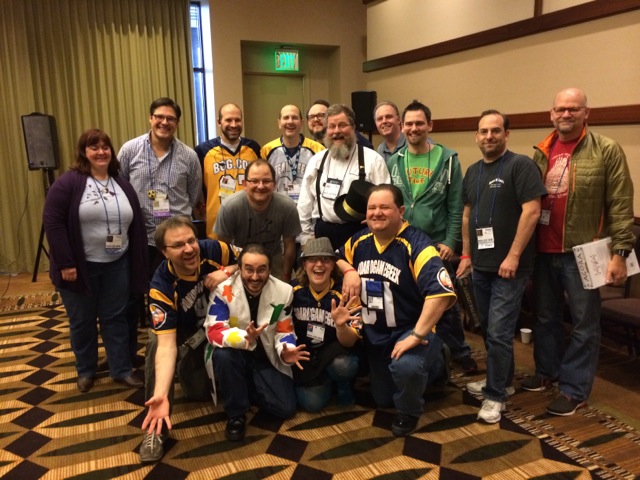 Special thanks to all members of team Spiel for volunteering. These folks were runners, scorekeepers, cashiers during the game or helped set up and tear down: John Knoerzer, Beth Heile, Ezra Denney, Mark Smalley, Steve Cuneo, Jay Bartelt, Jeff Ridpath, and Tom Rogers.
Francie Broadie, provided tons of extra help and support preparing for the event, including preparing keynote presentations and trivia cards. Check out her amazing jewelry here.
Mark Wilder hosted the final round of the game show and wrote all the final round questions.
Jon Theys provided technical support and setup, helped with advance registration, and anything and everything else.
Debbie Ohi spent hours taking photos at the Spiel-a-thon. She is a fantastic photographer, artist, and all around great person! Check out the Spiel-a-thon album here. And more about Debbie here.
Preliminary and Semi-final questions were written by an intrepid group of Spiel listeners: John Knoerzer, Michael Iachini, JB Lawton III, Chez Eskay, Marcus Brissman, Johan Gärderud, Åke Nolemo, Dennis Lindgren.
We had a FANTASTIC prize pool this year for final round participants! These game prizes were provided by game publishers and vendors present at BGG Con. Massive thanks to these publishers for their generous donations!
Prize donors are listed below: