The second Spiel-a-thon of 2017 took place at BGG Con on Friday, November 17 in Dallas, Texas.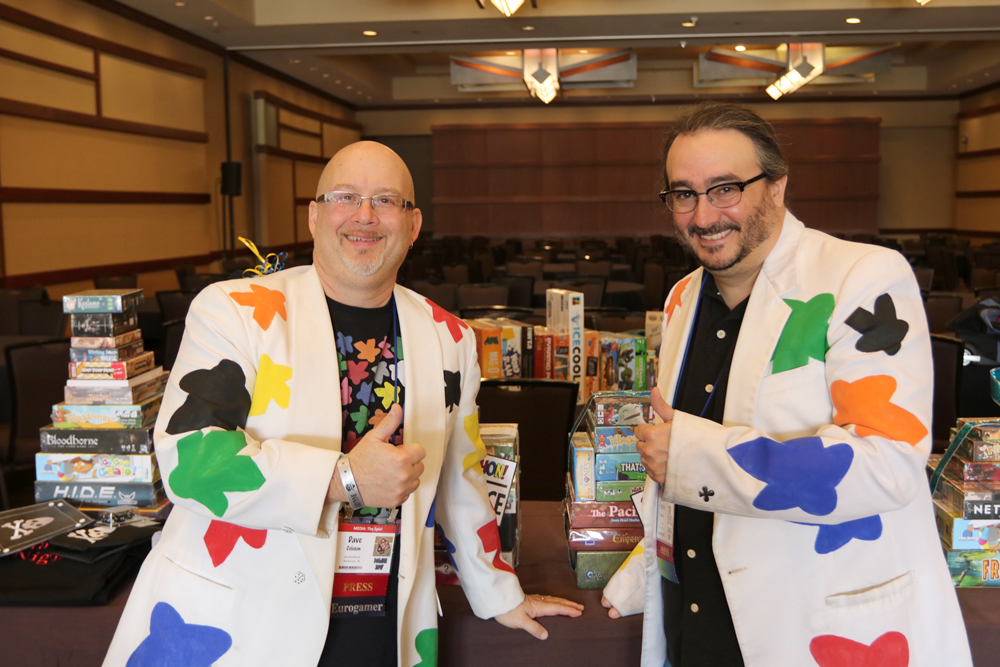 We had our largest turnout to-date for a Spiel-a-thon in Dallas.
We raised over $2,600 in less than 3 hours.
Each Spiel-a-thon is about more than asking people to pry open their wallets.
The driving force behind every Spiel-a-thon is to demonstrate how play can be a powerful force for good in the world.
Don't get me wrong, we welcome your contributions any day, any time. But if you come to a Spiel-a-thon, you come to pay by playing!
You play. Then you pay. And the Foundation uses this money to assemble bundles of games.
Each bundle allows more kids and seniors to play. Each game bundle we send out delivers more fun into the world.
It's a perfect circle of fun. And that is priceless.
The current Spiel-a-thon format is a carnival of quick fun games set up on tables around a room. A teacher at each table gets the games going.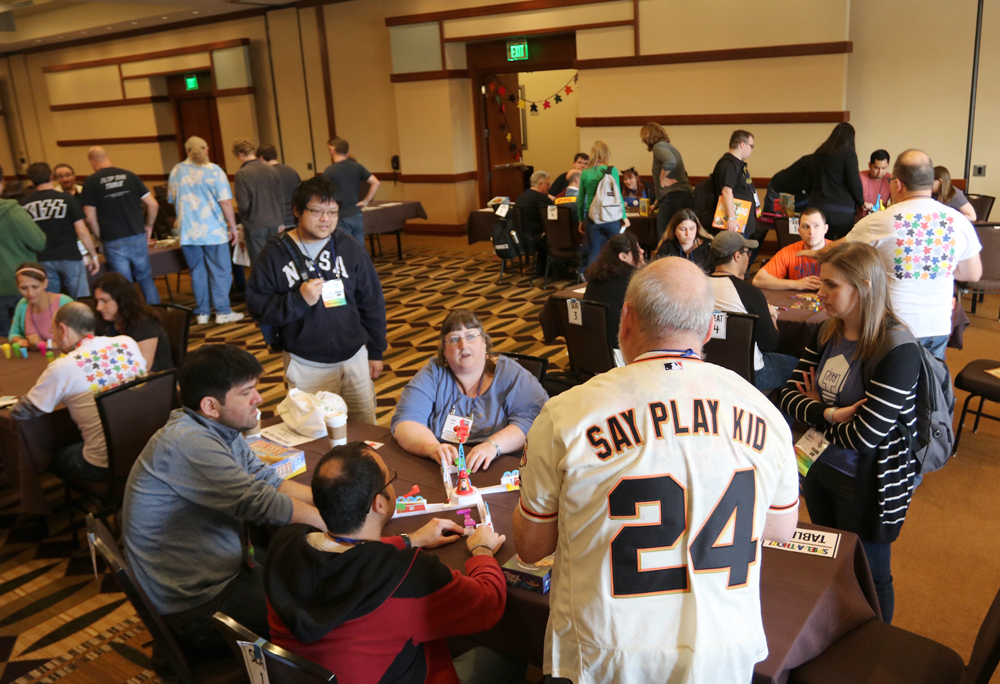 Players earn stamps for each game played and pay $3 per stamp when they're done.
Games played in this year's event included:
Go Go Gelato, Tricky Trunks, Flying Kiwis, Panic Mansion – published by Blue Orange
Oh No, My Bacon is Flying Away – published by HABA
Strike – published by Ravensburger
Finger Twist, Speed Cups – published by Amigo
Cudaki – published by Mindware
Meeple Circus – published by Matagot
Boom Blast Stix – published by Moose Toys
Fold-it – published by Happy Baobab
Looping Louie – published by Hasbro
Here's a gallery of amazing pictures of the event from Debbie Ohi, the official photographer for the Spiel-a-thon.
The highlight of this Spiel-a-thon was an epic game of Boom Blast Stix between Rich Sommer and Jan Lundquist.
We have a tireless, energetic group of volunteers that make each Spiel-a-thon happen. The people listed below donate time, resources and creativity to make the event a memorable experience for all involved. Our cast of volunteers this year included: Francie Broadie, Patty Richardson, Stephen Conway Erin Green, Doug Richardson, John Knoerzer, Beth Heile, Ezra Denney, Jeff Ridpath, Roni Worley, Erin Davis, David Coleson. I cannot thank them enough for their effort in making this Spiel-a-thon such a success.
At the end of the event, the top six scoring players compete against a panel of gaming celebrities to win prizes.
Here are all the finalists and gaming celebs, ready for the final round!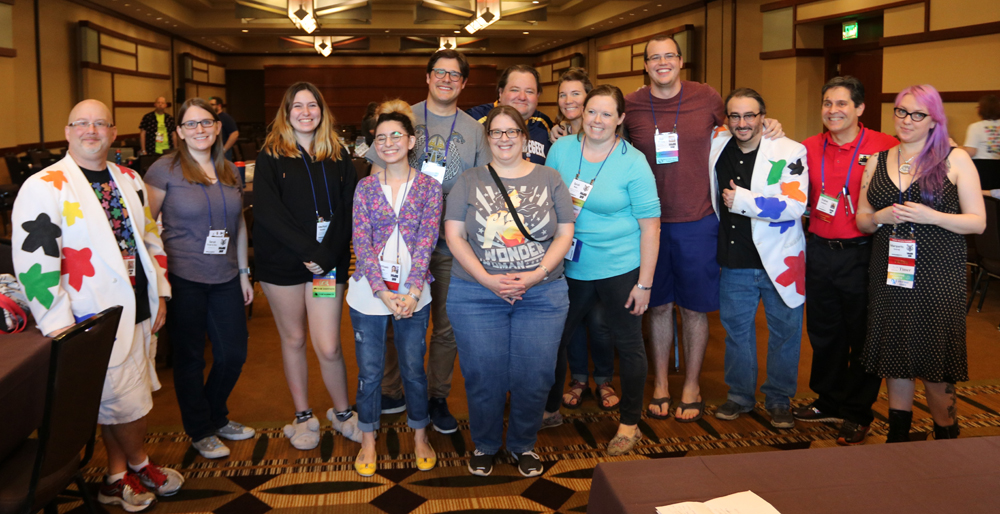 Celebrities competing in this year's Spiel-a-thon:
Scott Alden (BGG)
Brittanie Boe (Game Wire)
Stephen Buonocore (Stronghold Games)
Marguerite Cottrell (Maggibot)
Rich Sommer (actor, host of Cardboard!)
The ultimate winner of this year's Spiel-a-thon at BGG Con was Noel Strickling. Congrats to Noel and all the finalists!
The celebrities competed against each other for bragging rights and the honor of raising the jeweled meeple trophy aloft for the next year. Unseating last year's champion, Rich Sommer, this year's celebrity Spiel-a-thon winner was Brittanie Boe (Bebo!). Bebo was 5-1, playing Loopin' Louie against our finalists. Her plane flipping skills are unmatched. We hope she'll be back next year to defend her title.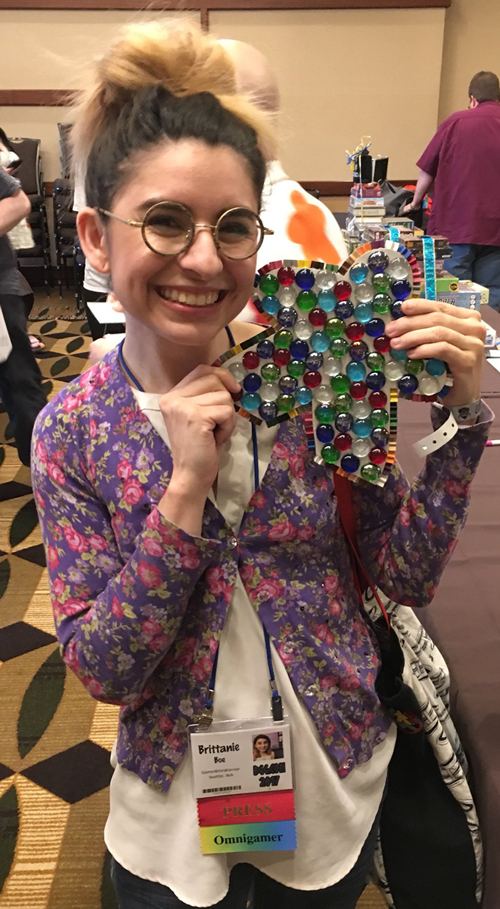 Last but certainly not least, a massive thank you to our 30 prize sponsors!
We had an amazing array of games to give away during the Spiel-a-thon thanks to the generous donations from prize sponsors. There were random prize drawings, one big raffle for all players, plus six juicy prize bundles for our finalists!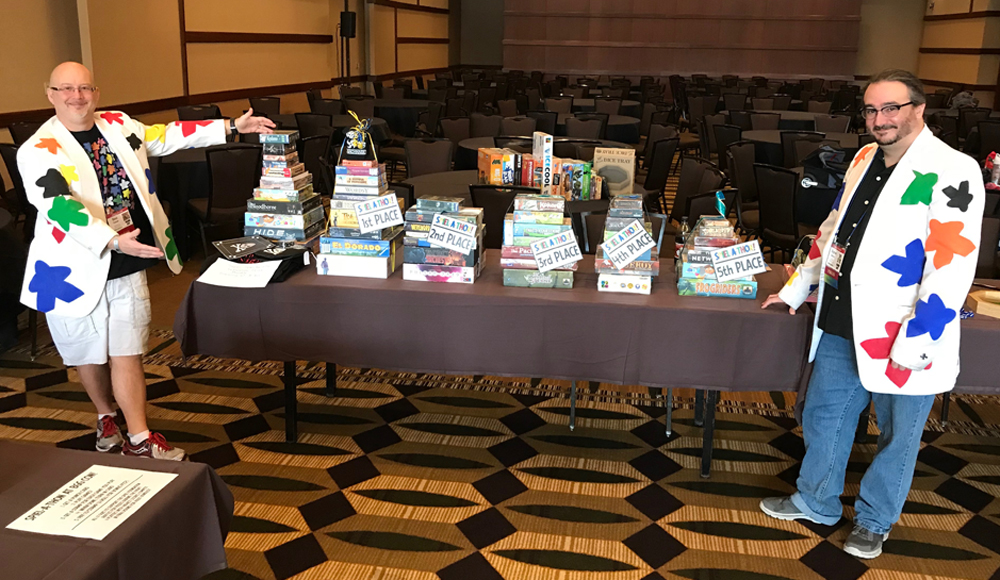 Here's an alphabetical listing of sponsors with links to each one. Let them know you appreciate their support of The Spiel Foundation!
Last but certainly not least a big THANK YOU to the entire BGG Con staff for allowing us to to host the Spiel-a-thon at the convention now for the past 8 years. We appreciate their support and willingness to work with us to make each year's event better than the last. We're already looking forward to next year!